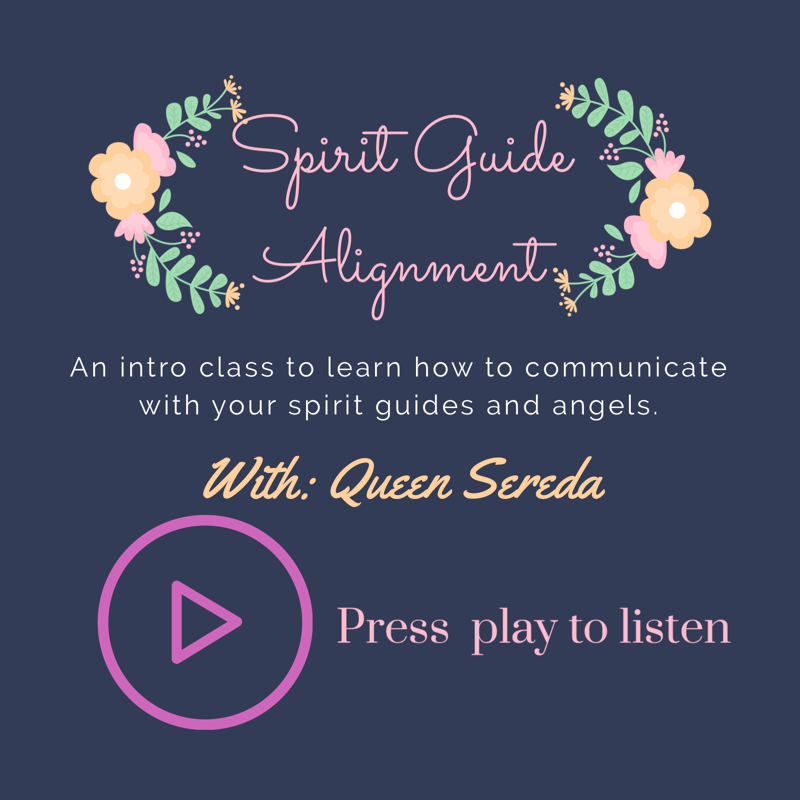 Here are some of the perks you are receiving:
Explore how to connect with your Spirit Guides and your Angelic team.
Experience the peace of mind and body which comes from working with your Spirit Guides.
How to Integrate Spirit Guide Communication into Your Daily Life.
Build a foundation for a long lasting connection with your Spirit guides and Angels.
Understand the tools your Spirit Guides use for communication.
Discover who you are tuning into and who you are receiving spirit messages from.
Explore the contact patterns of Angels and Spirit guides.
Uncover why its so wonderful to work with your spirit guides.
My 327 Page Ebook: Spirit Channel: 84 Days of Channeled Daily Motivational Angel Guidance.
Spirit Guide Alignment online course:
This course is designed for both beginners and intermediate students looking to develop a deeper more enriching connection with their Spirit Guides and Angels.
If you are someone who desires to opening the lines of communication with your own spirit guides while boosting your intuitive abilities, this online course is just right for you.
If you don't have experience working with your spirit guides it doesn't matter. Since we have no prerequisites we expect you to know to enroll in this course successfully. There is no extra stuff to do that is required to complete this course plus you need not have any present spiritual or intuitive abilities to enroll into the course. The only thing is to be open to mentally receive.
When you align with your Spirit Guides you tap into All of your unknown potential. Being one with your Spiritual army can truly Change your entire world. If you're looking to make your dreams come true then Aligning with your Spirit Guides is the answer. You came for a reason.
You found this online course for a magical reason. I do feel its more deliberate than anything else. Its deliberate because you have a wanting to take things up a notch, to transform and to get better. So you attracted an answer just for you. You can rest assure that you have come to the right place. As you probably know, its important to always be rising in life no matter whatever it is that you choose to do.
It's important to grow inside and out. It's not always so easy for you as a human, we get it. We as Spirit Guides want to help take the heavy burdens off of you. We can help you do anything you want to really. You don't have to struggle through life without help. With this course, we can guarantee a shift in mindset, in opportunity, in energy, in ability to take action when you work with your personal Spiritual team.
Your Spirit Guides have your back without judgement! More than anything else its the right time if you're here reading this. You can go through life feeling blind or go through life being able to see clearer and more brighter. Now is that time. Sometimes all you really need is encouragement to know that things are going to be alright for you as a spiritual being in a human body and that you can do anything you want to.
This is the truth. Yes, you can, as you open your hands and heart to Embrace your life purpose. Embrace prosperity. Your Guides shall take your hand to embark upon a new journey where all is possible!
Get unstuck, move forward.
Be happier.
More stable emotionally, physically and spiritually.
Feel greater support through working with your Guides

!
Queen Sereda~

If you want to move forward like you've never done before then this is for you.
That I can promise you.
Requirements: You will need to have access to a computer and internet
The course material can also be downloaded and completed offline